Event Registration
The Florida Stress and Anxiety Symposium is a community event for counselors, social workers, educational providers, and other mental health community stakeholders who desire to learn more about understanding and treating stress and anxiety in kids and teens.



Our 2022 Presenters

Workshop Description: This workshop will focus on advanced psychoeducation about the nature of social anxiety disorder, its evidenced based treatments, and resources for practitioners and clients.
Presenter Bio: Liz Overpeck is a Licensed Mental Health Counselor and founder of Emerge Counseling Solutions - an online counseling practice which provides evidence-based treatment for those suffering with Social Anxiety Disorder and coexisting mental health struggles. Liz works with Florida residents ages 11 and up and enjoys offering individual and group therapy. Liz is a graduate of Florida State University where she earned her psychology degree. Liz went on to obtain her masters degree in Clinical Mental Health Counseling at Denver Seminary where she gained a specialization in the practice of Christian spiritual integration in psychotherapy for clients wishing to explore issues of faith as related to their mental health and well-being.
---
Workshop Description: Gifted and high-performing kids often have high expectations and want to please
parents, teachers, and themselves. They may seem as if they are constantly dissatisfied
with their grades, effort, or other interests. Self-disparaging beliefs, obsessive thoughts about perfection, and feelings of unworthiness can lead to significant stress and anxiety. In this workshop, participants will learn: 1) Common underlying psychological stressors of gifted children and adolescents, 2) How to provide effective validation to gifted children and adolescents, and 3) Therapeutic practices to help gifted children and adolescents manage stress and anxiety
Presenter Bio: Erica Whitfield is a Licensed Mental Health Counselor with over 12 years of experience working with children and adolescents and is the Founder of Positive Development, LLC - a counseling practice for gifted, creative and, high-performing kids. As a past high-performing student throughout her academic career in private and public magnet school settings, Erica is uniquely positioned to understand and address the challenges faced by gifted, creative, and high-performing kids. Erica specializes in providing strengths-based counseling and has helped hundreds of youth unleash their capabilities, transform obstacles into opportunities and find healthy ways to express their energy and creativity. Erica has been featured on the podcasts, Raising Adults and The Gifted Mind, and has written several parenting articles published by the Jacksonville Mom, the city's largest parenting resource. She has a great deal of enthusiasm when it comes to inspiring others to realize their potential. Erica believes in the importance of self-acceptance and the role this plays in positive change.
---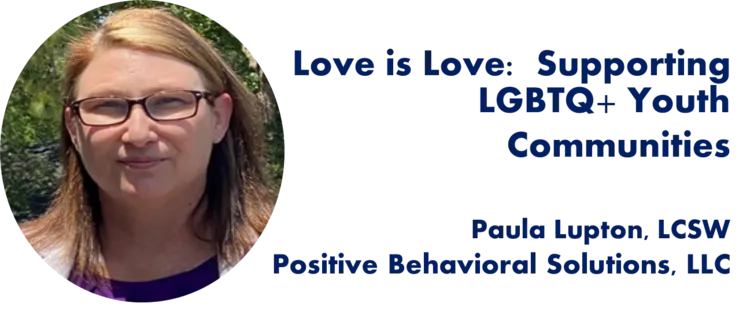 Workshop Description: In this workshop individuals will engage in an interactive/powerpoint led discussion and be able to define LGBTQ+ and associated terms, become aware of welcoming strategies that may impact mental and physical health for LGBTQ populations, learn to identify LGBTQ culturally competent practices/ strategies, and locate resources to better support and advocate for LGBTQ communities.
Presenter Bio: Hello, I am Paula Lupton and I am an LCSW and the compliance and accreditation officer at PBS. I have been in the field of social work for over 19 years in the Central Florida Area. I specialize in working with trauma informed systems, LGBTQ+ clients and their rights, child welfare, working with individuals in crisis, and building strong communities. As a native Central Floridian, my focus has been on strengthening the community through education and increasing awareness of mental health. I also have a passion for working with expressive arts as a medium for healing. I am currently a fellowship student at Crealde Art school with a focus on abstract art. I facilitate the creative conscious group bi monthly here at PBS. At any time we meet, there is a good chance that unintentionally I may present with paint located somewhere.
---
Workshop Description: The 8 sensory systems and how we can utilize our Vestibular and Proprioceptive systems to implement coping tools when our prefrontal cortex's are shut down due to stress and heightened anxiety. Some of these coping tools include deep pressure, engaging our senses, and other listed techniques I have developed and implemented in practice with youth and adults alike.
Presenter Bio: Katherine Scott M.Ed/Ed.S, LMFT is the assistant clinical director and lead Licensed Marriage and Family Therapist at a practice lovingly known as Puzzle Peace Counseling. She is a triple Gator who received her dual masters degrees from the University of Florida. While working with many walks of life, Katherine's niche is working with children and young adults on the Autism Spectrum and their families, as well as broad neurodiversity. Puzzle Peace Counseling is a prominent outpatient therapy location known for its unique approach to serving those with Autism and their families.
---
Workshop Description: This workshop will focus on strategies to engage children and adolescents in establishing positive affirmations, boundaries and self-care strategies that work best for them!
Presenter Bio: Desiree Buggs is a Clinical Counselor at Family Foundations currently practicing in the Duval County School System. She is the author of two self-care books titled The Ultimate Pretty Teens Self-Care Journal and Ultimate Pretty Gurl Self-Care Journal. In her free time, she enjoys spending time with the people she loves, doing make-up, and reading books.
---
Workshop Description: Learn the basics of play therapy and how to apply those techniques for treating stress and anxiety in children and adolescents!
Presenter Bio: Jessica Reber is a Licensed Mental Health Counselor who specializes in working with children ages 5 to 12 years old. Jessica began utilizing play therapy as a therapeutic tool while working in the nonprofit sector and in the Duval County Public Schools system. Jessica eventually transitioned to a specialized play therapy private practice, The Healing Playroom, where she continued to assist children and their families with stress, anxiety, anger, trauma and emotional regulation. Jessica's personal favorite interventions within the play therapy realm are bibliotherapy, art and sand tray therapy techniques. Jessica is now a proud Full Time Stay At Home Therapist aka Full Time Parent!
For additional questions or concerns, please contact Erica Whitfield at:
Phone: 904-516-0913

Email: [email protected]