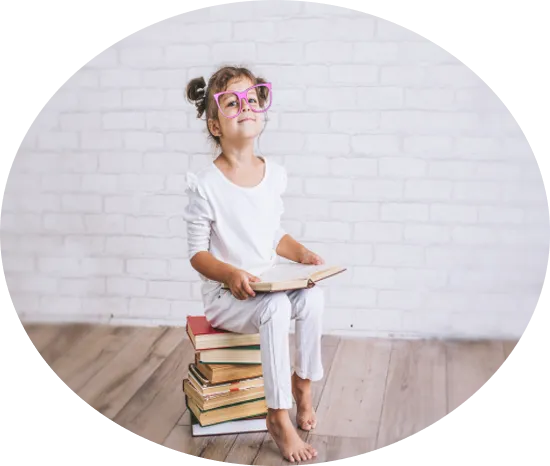 We start with Parent Feedback. We will learn about your concerns for your creative, gifted, or high-performing child to gain a better understanding of how we can help.
We then meet with your child to determine their personal goals to design a counseling plan to help your child succeed!

Finally, your child will meet with us for weekly, bi-weekly, or monthly sessions.
Your child will be able to share their thoughts and feelings to begin to learn how to manage stress, form healthier relationships and find the motivation to continue to pursue his/her talents.
We encourage kids to tap into the creative powers that exist within them to find their own solutions that work just for them!
What Our Therapy Can Do:

We really listen. We help kids understand that their thoughts and feelings matter. This improves their self-esteem and overall mental wellness.
We help kids focus on their strengths and their natural talents so that they feel inspired to be their best selves!
We help kids work on issues that they think are most important. This is what usually leads to improvement in mental health symptoms.
We help guide parents to understand and motivate their kids. Sometimes understanding why something is happening is more important than trying to change it.
What Our Therapy WILL NOT Do:
We do not pressure kids to change. This is not therapy and often leads to kids shutting down and closing off.
We do not offer quick fixes. Quick change is often unsustainable change. We focus on small growth over time which leads to long-lasting change.
We do not create "perfect" kids. Life is a series of ups and downs. We help kids and parents learn how to make these ups and downs more manageable.
---
How Many Therapy Sessions Will Your Child Need?
Click here to use our Estimated Session Calculator to get an idea of how many counseling sessions your child may need.
---
What Makes Our Therapy Practice Different?
We make the agenda of our kids our number one priority. We do not bring our own agendas into the counseling room. This helps kids feel safe and allows them to develop trust in the counseling process. Most importantly, our kids begin to develop trust in themselves and their ability to learn how to solve their own problems in ways that allow them to be their authentic selves.

---
Our Therapy Values
Intuition
We believe in valuing a child's natural ability to know how to heal themselves with therapeutic guidance. We listen to our kids, meet them where they are and allow them to show us the best ways to structure our sessions to encourage their growth.
Healing
We encourage changes that can be made to support the mental, physical, environmental and emotional needs of kids. We do not believe that medication should be the first line of treatment for children.
Abundance
We encourage our kids to tap into the creative power that exists within them. We believe that kids already possess their own unique strategies and skills that they need to be happy and fulfilled. There is little that we need to teach. Our role is to support kids as we guide them in tapping into what they already have inside!
---
Invest in Your Child's Happiness and Confidence
Therapy Rates :
Information Regarding Counseling Rates
$240 per 60 min. Individual Session with Licensed Mental Health Counselor
$80 per 50 min. Individual Session with Counselor Intern
$140 per 50 min. Individual Session with Registered Mental Health Counselor Intern or Masters Level Counselor
(Registered Interns and Masters Level Counselors have Master's Degrees in counseling and more experience than Counselor Interns)
You can also ask us about our session packages or pricing for our parent coaching sessions.
Currently accepting
: Self-Pay Clients
Payment may be made with cash, check or card. You can also pay online through our website or through your secure client portal. Session payment is due after session takes place.
Do you want to use your insurance?
You may be able to receive reimbursement from your health insurance company. Some clients are allowed to pay for their session upfront for the full cost of the session and then receive a portion of the cost back paid by their insurance company.
Contact your insurance company to see if you can see us as an "out of network" provider and be sure to ask them if and how much they will reimburse you for the services that you received with us. Sessions with interns may not be able to be reimbursed depending on your OON benefits.
You may also consider using your Health Savings Account (HSA) if you are eligible to receive reimbursement (at a pre-tax rate) for your sessions. Contact your HSA representative to ensure that this is an eligible expense.